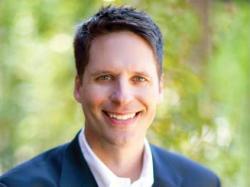 Timothy N. Byrd, DMD
Dr. Timothy N. Byrd, President and CEO of Byrd Dental Group, brings over fourteen years of experience to his practice and feels fortunate to do what he loves every day. While he enjoys the procedures, medicine, and diagnosis involved with dentistry, he cherishes the relationships he develops with his patients the most.
Dr. Byrd first emerged as a leader while pursuing undergraduate studies at Lee University (BS Biology, 1994). As alumni coordinator, he led a campaign to raise over $80,000.00 to build a clock tower which still serves as a focal point for the campus today. He later attended the University of Alabama - Birmingham School of Dentistry and graduated in 1998. During his time at UAB, he was elected by his classmates to serve as ASDA (American Student Dental Association) representative for four consecutive years. He represented the state of Alabama on the national level each year to vote on important issues and also organized local events. After graduation, he completed a one-year residency in Dental Surgery at the University of Vermont College of Medicine, a level one Trauma Center. During his residency, he set a production record in the program for the amount of crown and bridge completed. Other accomplishments include: achieved status of Chief Resident, passed certification for Advanced Cardiac Life Support, completed a rotation in general anesthesia, treated fractures of the mandible and maxilla, sutured facial lacerations, performed numerous surgical extractions, and he became efficient in molar root canal therapy and restorative dentistry. Dr. Byrd annually exceeds the mandatory hours of continuing education to stay abreast of the most recent advances in the field, and recently spent time in Dallas, Texas for in-depth training and certification for E4D CadCam dentistry.
He volunteers regularly at the Ben Massell Dental Clinic where he provides free dentistry to impoverished patients. He also works with Smile Train to provide free surgery to children with cleft lip and palates. Dr. Byrd also actively donates to the Atlanta Symphony Orchestra, High Museum of Art and St. Jude's Hospital. In November 2011, Dr. Byrd was recognized by the Atlanta Business Chronicle 40 Under 40 as one of Atlanta's rising business and community leaders.
When he is not working, he enjoys snowboarding, mountain biking, swimming, attending sports events, and playing classical guitar. His favorite activity outside of work is spending time with his wife of 12 years, his 5 year old son, and his 2 and a half year old daughter.
Dr. Delbert Williamson, DMD
With 24 years of experience, Dr. Delbert Williamson uses his knowledge to provide the utmost care to his patients.
He was born and raised in St. Louis, Missouri where he later attended the University of Missouri-Kansas City School of Dentistry. He graduated in 1988 with concentrations in General Dentistry and Conscious Sedation.
Dr. Williamson currently resides in Johns Creek with his wife and two daughters and enjoys spending time with his family.
Professional and Friendly
The team at Byrd Dental is professional, knowledgeable and friendly. My Dental provider since 2013.
Great experience
I have been visiting this dental office for nearly 2 years and have always had a great experience. Staff is pleasant and knowledgeable. Dr Papp is excellent at explaining the procedures and situations. He makes you feel comfortable when you may be nervous. I've never had a problem with waiting too long to be seen. Convenient location. Highly recommend.
Crown Procedure
Dr. Papp and staff were professional throughout the new-crown procedure and took care to ensure my personal comfort. The procedure was near painless. From beginning to end, everything was highest quality.
Very informative, helpful, and overall great experience
I am a new patient at Byrd Family Dentistry and had a great experience at my first visit. Different things were pointed out to me about my teeth/gums that were never mentioned at my old dentist. I now have now worked out a game plan with the Byrd family staff members/physician to have healthier teeth/gums.
New patient First visit
Super nice and thorough staff, very thorough, explained everything that is going on, what needs to be done soon and what to expect 10+ yrs down the road. Explained what my insurance plan covers and what my out of pocket costs with be. Best dental group I have been to in 15 years, make them yours as well.
Teeth cleaning and molds made for a new partial denture
The gal who cleaned my teeth was very friendly and kept me informed of what she was doing or going to do. It was a very good experience. I got advice on my several year old partial that needs some help so was guided into a decision of getting a 2nd one which will be my primary and the old one is a back up. Glad for their guidance and suggestions.
Happy with Byrd Dental Group
Professional staff and friendly environment. High quality service and very knowledgeable. My kids received exceptional care and felt at ease during their appointment. I highly recommend Byrd Dental Group.
Fantastic Staff
The staff is warm and empathetic, especially Tricia. I highly recommend Byrd Dental for a thorough exam and pain-free experience.
John Torres
Great service. My hygienist was great. I plan to go back in 3 months for a follow up.
Very Happy with Byrd Dental
Always great service, great people. Love my hygienist!
Highly accommodating, friendly, concerned with your comfort. High degree of expertise and professionalism! Absolutely recommend this dentist office. My whole family goes!
Trisha is just the Best!
Recently had an appointment with Trisha for my regular cleaning - with age and condition of my mouth have to get these done every three months. Trisha is always so mindful of my TMJ issues/chronic headaches that make every trip to the dentist a pain. She gives me breaks to close my mouth when I need them but is very efficient at completing what she needs to do in a very professional and gentle way that minimizes my discomfort. All the while she is friendly, engaging, empathetic, encouraging and complimentary of my efforts to keep up with my hygiene! She is by far the best hygienist I have ever had - my wife and daughter agree wholeheartedly! The other staff are also very friendly and professional. I am so glad I found Byrd Dental back in 2010.
Very professional and courteous.
Today was my first visit to this dental group and I was very pleased. The staff was most courteous and professional from the time I booked my appointment to check out. They thoroughly explained the procedures and answered my questions. I especially like their method of listing exactly what my next steps are in the order of their priority. This especially helps for those of us that are unable to get it all done at one time.
My visit to Byrd Dental Group exceeded my expectations. Everyone was professional, considerate, and enjoyable. After considering my itinerary I will follow up with a request to move forward. Thank You. J. B. Desmond
The dentist and his assistant were very professional, I felt like I was in good hands.
Great Dental Service
The staff at Byrd Dental are really great. The care my family and I receive there is top notch. We highly recommend this provider.
Easy visit
Appointment started right at scheduled time. Everything went as planned. I was overdue for annual cleaning and deep scaling so had it done by Tricia. She explained everything, performed the procedure and scheduled the next visit. She was very pleasant and thorough. Dr. came in for a quick check in and all was good except for a chipped tooth I'll deal with on next visit. They did not pressure me for extra services for a welcome change! Keep it up!
very relaxed visit with NO big surprises
I just switched offices after my original provider was giving some questionable advice. Dr. Papp and associates were very relaxed and no pressure. Will be following up in the near future with reasonable recommendations.
Excellent experience. Would highly recommend this office for all your dental needs
First Visit
Overall a very positive experience. The dental technician and oral hygienist were very knowledgeable and personable. They were very accommodating of my schedule. This was my first experience with a dental HMO so I was surprised with a charge for an item when I thought the entire exam was a covered item. In the future, I'll do a better job of asking. The fee wasn't a problem, it just surprised me at check out. The office is very clean and everything looks new and up to date. I felt very comfortable there.
First time patient
Very thorough visit, as I re-establish with a new dentist. I was surprised how many good tips on brushing and flossing that I received from Trisha. They were simple, helpful and I am hopeful they will make a positive change in my dental hygiene. I liked Dr Papp and he seemed knowledgeable about options for upcoming work I will need to have done at some point.
Polite and.professional
I enjoyed my.first visit to Byrd. Everyone was polite and attentive. It was a pleasure to be taken care of, from the first peraon who greeted me to the hygienist. The dentist and the peraon who checked me out. Thank.you Byrd.
Very Professional Staff and Dr. Richard Papp was very informative and great at explaining everything.
I visited Byrd Dental for the first time today. I have to say that from the first moment when I arrived and was greeted, and then the service I received, everyone was very friendly, professional and I believe that my cleaning was one of the BEST I've ever received. Leah did a great job and Dr. Richard Papp explained everything to me without PRESSURE. Sherry at the front office gave me information about insurance and was very friendly, stated she has been doing this for 45 years and it shows that she takes pride in her work. I would highly recommend their office on North Point Parkway to anyone looking for a great dentist. Dagmar Sands 770-903-9690
Pediatric Care
My daughter had a wonderful experience. The staff and doctor was very kind and made my daughter comfortable and happy.
WOW! Put Me At Ease, Caring & Honest
THANK YOU! I had several issues to deal with, and I'm INCREDIBLY nervous about all that's ahead--BUT YOU guys went out of your way to make me feel at ease about our path forward. THANK YOU
I thought every one was very friendly and helpful. Doreen was especially helpful explaining about my insurance coverage.
Quick In and Out Great Service
I brought a book to the appointment but because I was in so quick I had no time to read. The servicr was excellent and I was out in short order. I am very happy with Byrd Dental.
Quality Team and Service
I had a GREAT experience at the North Point office this morning! The memory of it motivates me to write a GLOWING review! It began with a warm, professional welcome by the receptionist (Linda?)...so sorry I forgot your name, followed by x-rays taken by a very friendly Jasmine. I found the hygienist,Tricia, to be extremely knowledgeable and currently updated in the field of oral hygiene; I felt extremely comfortable in her hands. She is a PERFECTIONIST! Dr. Papp reviewed the x-rays and Tricia's COMPREHENSIVE oral evaluation upon which he gave me a thorough overview of my oral health care needs. He was very PATIENT in answering my questions and definitive in PRIORITIZING the work involved. There was NO pressure in getting the work done! However, I know it is necessary and should begin soon. The last phase of the appointment was a meeting with Doreen, the accountant. She sat with me and provided detailed information regarding payment of each part of my plan. When service is GREAT, I think it should be acknowledged. MANY thanks to the team at North Point in Alpharetta!
High quality service! Professional and friendly!
I had a very pleasant experiencing from the time that I called to schedule an appointment as a new patient until the end of my visit. I was received well upon arriving and my wait time was no longer than five minutes after I completed my paperwork. Brya was my hygienist and she was very knowledgeable and gentle. Jasmine did my X-rays and was extremely caring. Doreen brought me my dental plain and explained it thoroughly. The fact that I remember their names and have given them praise should speak volumes to the level of service that they all provided, including Dr. Tapp.
Professional and friendly
Excellent service the staff was very helpful and took care of me in a timely matter. i will for sure advise them to friends and family.
Professionalism
I came in today for x-rays and a general cleaning. I am very pleased with the knowledge and experience of the staff. It was comforting to know that I was in very good hands. My issues were explained in detail and how they can be rectified. Overall, my prognosis looks promising! Again I am very pleased and look forward to my next visit. Would definitely recommend! Jackie D.
Everyone was extremely attentive and helpful. Trisha is awesome! She was very detailed and thorough with my treatment. I recommend them highly.
Going to the dentist does not have to be dreaded!
For thirty years while living in Maryland I used the same dental office, dentist and staff! It was a great experience whenever I had to visit the dentist. Then we moved to Alpharetta 14 years ago. We needed a dentist and the first shot was ok ....that is until they sold the private practice to mega dental operation...ugh, hated going there...just a number says it all. Then I found Byrd Dental in Alpharetta 7 or 8 years ago.....at that point we were finally back to normal! The care is superb and so is the staff. From the minute you walk in you feel at home and you know that this is no big deal! The employees are terrific, the service is terrific, the experience is terrific from the beginning to the end....just like it used to be, I will bet that The Byrd Group is somehow connected to my former family dentist in Maryland! Mike L
Good quality service, friendly and professional staff
Good quality of service, professional and friendly staff, loved it
Always a great and easy experience - very caring hygienists especially!
Accommodating, friendly.personal and timely.
Every thing went Smoothly
Things are expensive but, with patience, the professional hygienist explained everything.
I find it hard to square the cost-of-things with what we, as patients, get. My hour-long periodontal cleaning was $600. What, pray-tell, could cost $10/minute? Materials? Labor? Hard to say and not easy to perceive, lying there unable to ask questions. It's hard for me to judge the value of a procedure. Prices have gone through the roof since me trusted dentist retired. We had a 20-year history without a problem. Now, I distrust all dentists. Not sure if I can believe any of them. The hygienist explained everything and gave me a view of the future that I could live with. This last visit was more than suck-the-money-out-of-your-wallet. I certainly want to feel like they care about my health and not their wallet. That would be the win-win for everyone.
Root Canal and Crown
The procedure was done with great care in every detail. Also the repair of my denture and the new crown are both excellent.
Great service! Wonderful staff!
Everyone at Byrd Dental Group treats their patients with respect and kindness. From the dentists to the hygenists to the front desk staff, everyone is welcoming and helpful. I have kept Byrd Dental Group as my main dental provider for years now because of their quality of service and courtesy to patients.
Took me as walk-in late in the day, even though they were booked solid.
This place is top notch because of their people! Exceptional customer service combined with an easy going dentist, equaled a great experience! Thank you for all of your help, from scheduling to billing, to making me feel at ease in the chair, I truly appreciate you. Patrick
Great experience
I had all of my upper teeth extracted and it was nothing like I expected it was pain free and done by a friendly and professional team
Excellent service. Friendly staff.
Organized office. Great staff. Thorough service.
Friendly courteous professionals
Came to get my teeth cleaned today and enjoyed the friendly atmosphere and staff.
Great Service
I love my hygienist, Lee. She treats me like a friend, not a patient. She's always gentle with me. She understands that I am trying to follow all her instructions and she never ridicules me. I'm working hard to improve dental health and I'm glad she's my hygienist.
Professional, highly qualified and friendly staff
This was my first visit for x-rays and cleaning. I was extremely impressed with the entire staff who were friendly, highly qualified and did an excellent job in all areas. I would definitely recommend this practice to my friends. Very informative and no high pressure tactics.
Very Helpful to a Scaredy Cat
I must admit that I don't do well going to the dentist, but had a situation that required an emergency visit. The staff was very helpful in getting me a quick appointment and the dentists and assistants all calmed my anxiety. Very grateful for this office and how they handled my situation.
Short and Sweet
This was just a follow up to my cleaning. Quick visit with Trish to be sure my expensive antibiotics are working! In and out in no time.
high quality from all
The hygentist was very friendly and professional
Great place
Very nice people. Help you understand what they are doing. Very easy payment plans.
More than just a cleaning.......
My 2-daughters (who were afraid of Getting their teeth cleaned before) now go without any hesitation to see Trisha! We love her. All of the staff there are wonderful and I have not see any turn over since I have started seeing them approximately 2-years ago. No wait time either! If you are looking for a dental office, look no further.
I found my first visit to be very friendly, courteous and professional. I look forward to the rest of my visits.
I could not pick a better place to do my treatment.
Byrd Dental Group - Superb!
While I had a "routine" teeth cleaning, Byrd Dental Group performed a late scheduled exam of my wife (actually, scheduled yesterday!); and, on the same day of that exam; and without a long-term appointment; provided her with two crowns! Thanks very much to the newest dentist on the staff, a very professional Dr. Papp; and expecially to Doreen, who left her position at the desk to return to being the dental assistant that Suava knows and trusts (she provided significant and necessary comfort to my wife on 10 March); to Trisha, the best dental hygienist in the universe; and especially to Sherry, a long-time friend and excellent Byrd receptionist, and to Kim (a newer member of a great team). Just - thank you all - for caring for us, as patients and as people!
Everything was professionally handled in a timely manner.
Friendly and Efficient
I went in for my 3rd crown with Byrd Dental group, and I continue to be impressed by how friendly and efficient their entire team is. The procedure was quick, and I knew exactly what was going on the entire time. This is truly a family place where they care about you--you're not just a mouth to them.
I had a tight time schedule, and everyone at Byrd was terrific in working to get me out on time, which I really appreciated!
5 star
I'm always pleased with the friendly staff and professionalism at Byrd Dental.
-
Gloria Jean .
2/25/2016
I was very satisfied with my visit! All of my questions were answered and they were very detailed
Better than last dental work there
Just as the subject! They got a new doctor, like him so far.
Quick and Painless
They saw me right away and quickly fixed put in my permanent crown. In addition, they had time to help me with another issue (chipped front tooth) and completed that procedure quickly and painlessly.
friendly and very high quality service
I hate going to the dentist, however byrd dental group made me feel motivated to go again. They were very friendly and courteous. The hygienist, Trishia, was extremely friendly and made me feel very comfortable
Except for pricing, very good experience
On the positive side, all of the personnel were very friendly, and I liked the primary doctor a lot. They also made time to fill a cavity they found right after my normal check-up appointment. This was my first time going to the dentist with insurance in many years, having always paid out-of-pocket. I was a little disappointed in how much I still had to pay out-of-pocket even with good dental insurance. They showed me how much it would be without insurance, and the rates were much higher than the same service at other dentists. Also, after all procedures were complete, the bill was higher than I had agreed to beforehand. They said there was a walk-in fee they didn't mention which neither they nor I could find anywhere on my insurance, and also that something in the procedure simply cost more than anticipated. So I really like the personnel and service, but I only give it 4 stars because of higher rates and boosted bill after procedure was already completed.
Friendly professionals - but pricy
Everything went well, but they are way pricier than other dentistry. The professionals are polite, always smiling. The office is good. A suggestion would be to add a ceiling TV like some other dentistry I've been to.
Very Impressed
I had a broken crown and needed to get in right away due to pain. Arbitrarily called within my network for an appointment. Not only does this office pick up the phone so you can speak with someone, they were actually able to fit me in right away. They are very attentive and knowledgeable. I am so happy to have found them.
Fast and Friendly
My recently-placed crown was hurting and I didn't know why. I got in quickly, the dentist evaluated that there was a small spot rubbing when I chewed. He sanded it, and I was on my way in 15 minutes. I haven't had a problem since. The reason for 4 instead of 5 stars is that they didn't catch this when I was in the office getting the crown originally. Oh, well. Sometimes you don't know until you try to use the tooth.
Pleasant for a Dental Vist
I love the hygienist here. She is very friendly and does great work. I am convinced she is the reason I haven't had major dental work in years now. Thank you!
Excellent Service
I am very thankful to get the new dentist in the office, he is great much better than the one before not even sure of his name. Terrible bed side manner. This new guy goes along with the rest of the team there. Very kind and makes you feel like family. I was going to change my families dentist because we moved an hour away but now we will continue to make the drive. My whole family loves everyone there.
Professional and Friendly
Just wanted to take a moment to say thank you to Andrea at Byrd Dental. I appreciated how professional and friendly she was during my visit. She assisted in replacing my temporary crown and ensured my appointment was pleasant. Thank you Andrea! I look forward to visiting with you in the future.
Message Sent. Thank you for contacting us. We will be in touch with you shortly.
Send A New Message
Contact
Byrd Dental Group At North Point
4000 North Point Parkway
Suite 500
Hours
Mon:

7:00am

-

4:00pm

Tue:

7:00am

-

4:00pm

Wed:

7:00am

-

4:00pm

Thu:

7:00am

-

4:00pm

Fri:

7:00am

-

1:00pm

Sat:

Closed

Sun:

Closed
Insurances
Aetna
Ameritas
Blue Cross Blue Shield
Cigna
Delta
Medicare
Guardian
MetLife
United Health Care
HMO